[ad_1]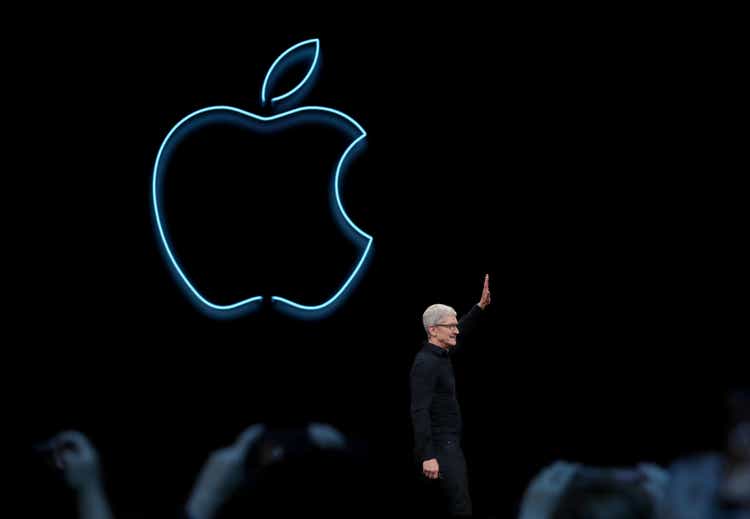 Artificial intelligence showed no signs of losing the attention of Wall Street this past week as Apple (NASDAQ:AAPL) Chief Executive Tim Cook and FTC Chair Lina Khan gave some of their thoughts on the state of the AI market.
Cook used Apple's (AAPL) fiscal second-quarter conference call to urge for companies to use caution in the race to build AI services and incorporate the technology into their products. Cook said that the potential for AI is "huge", and as Apple (AAPL) has integrated AI into services such as its iPhone and Apple Watch crash and fall-detection technology, it would continue to introduce AI on a "very thoughtful basis."
Meanwhile, the FTC's Khan took to the pages of the New York Times with a guest essay in which she outlined her organization's concerns about what she called the "rapidly developing AI sector."
Khan said that the FTC stood to take a more-active role in regards to overseeing the expansion of AI across American businesses. "We can already see several risks," Khan said, included how more AI adoption "risks further locking in the market dominance of large incumbent technology firms."
Meanwhile, top executives from the likes of Google (NASDAQ:GOOG), Microsoft (NASDAQ:MSFT) and OpenAI met with Vice President Kamala Harris and other White House officials to discuss issues related to the expansion and use of AI technology.
Among other companies that have put AI front and center in the their business strategies, Nvidia (NVDA) saw its shares hit a 52-week-high due in large part to the company receiving more upbeat sentiment from Wall Street over its AI efforts.
IBM (IBM) gave a sign of possible things to come with AI and how it could effect the job market, as the tech-services giant said it would pause hiring in certain areas in a move that could result in 7,800 jobs being cut in the coming years.
Advanced Micro Devices (AMD) had an eventful week, as its shares took a beating following a business outlook that disappointed investors. AMD (AMD) rebounded somewhat following reports that Microsoft (MSFT) would help finance the company's development of AI chips, but by the end of the week, Microsoft (MSFT) denied it was getting involved with AMD (AMD) in developing Microsoft's (MSFT) own Athena chipsets.
Online travel site Expedia (EXPE) reported quarterly results, and also got a lift from investors after it said its business had been helped by "accelerating development" of AI and machine learning systems.
And Facebook parent Meta Platforms (NASDAQ:META) said it had hired a new team of AI developers from Norway to help with its building of supercomputer systems to support its AI development.
More on tech news this week:
Apple surges as iPhone results seen as 'impressive'
Google confirms its first foldable phone on way
[ad_2]

Source link