[ad_1]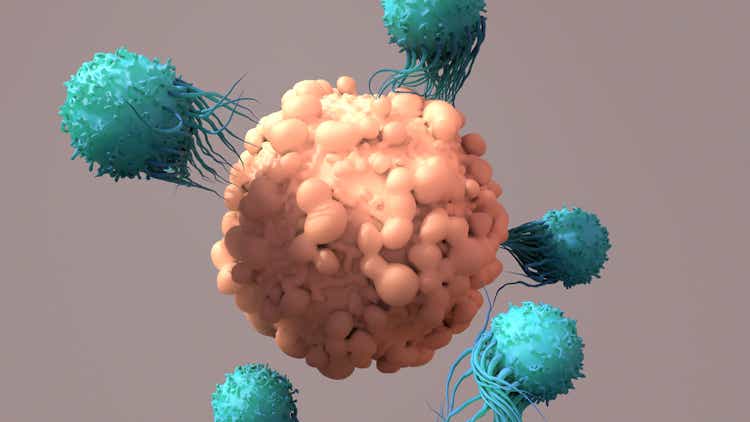 The market for oncology drugs is set to surge between now and the end of the decade, according to two new reports.
IQVIA estimates that spending on oncology treatments in the US alone will rise to $125B by 2027 based on current treatments and the number of therapies in pipelines. The firm added it sees spending on oncology drugs in the US increasing 54% over the next five years.
According to the GlobalData Drugs Database, there are currently 125 oncology drugs in pre-registration. The database also notes that approvals for new oncology drugs have almost tripled over the last decade going from 16 in 2013 to 43 in 2022.
GlobalData also has a bullish projection for cancer therapies. The data and analytics firm projects oncology drugs to generate $2.2T in sales worldwide between 2023 and 2029. It sees a 6.8% compound annual growth rate (OTC:CAGR) for oncology therapies. GlobalData noted that the U.S. will dominate the oncology market, with 47% of sales from 2023-2029.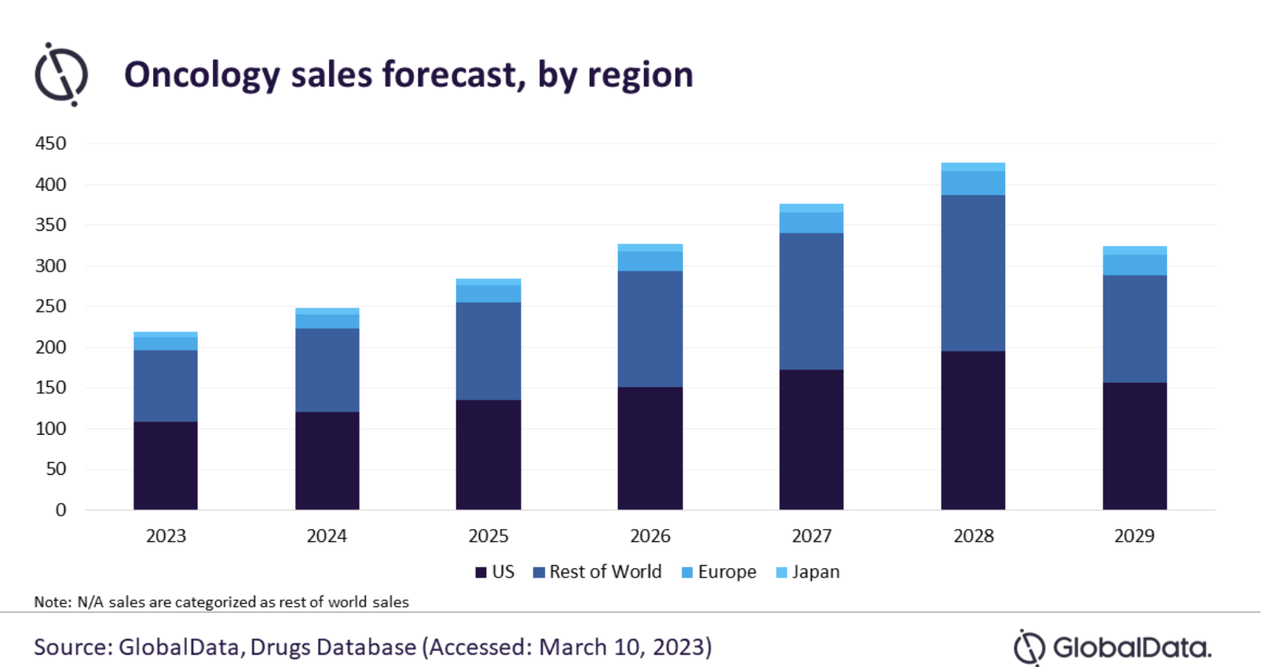 Although other regions account for a smaller share of sales, GlobalData sees those regions growing faster: Europe is forecast to grow at a CAGR of 8.4%, while Japan's CAGR is forecast at 8.9%.
IQVIA said that an increasing number of oncology treatments in the future will have more narrow focus given the rise of precision medicine and biomarker-driven therapies.
"New modalities are expected to drive oncology spending with cell and gene therapies, bispecific antibodies, and antibody-drug conjugates making up an increasing part of novel medicines in both solid and hematological malignancies," the drug analytics firm wrote in its report, "The Use of Medicines in the U.S. 2023."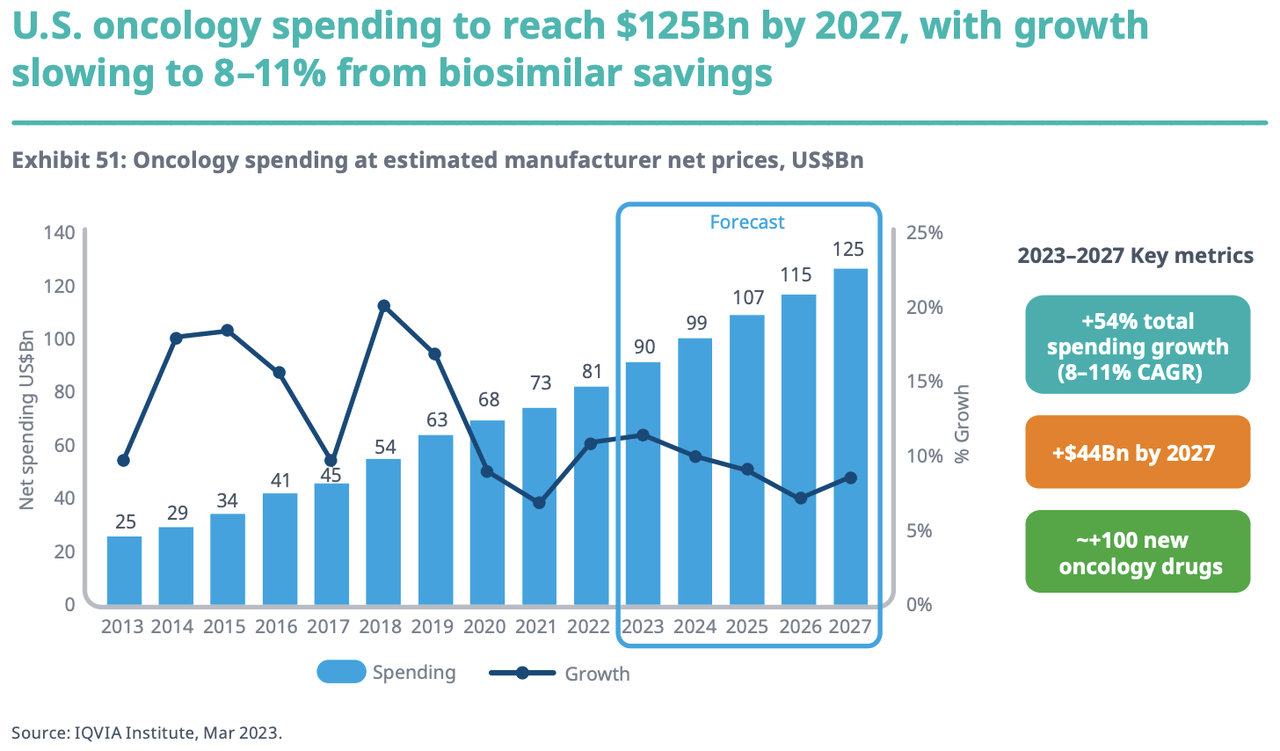 IQVIA also noted that newer immunotherapies are gaining in use, as are using treatments for longer periods of time.
The top-selling cancer drug worldwide, as of 2021, was Merck's (NYSE:MRK) Keytruda (pembrolizumab), bringing in $17.2B, according to Statista. Rounding out the top five, in order, are Bristol-Myers Squibb's (BMY) Revlimid (lenalidomide) ($12.8B); AbbVie (NYSE:ABBV) and Johnson & Johnson's (NYSE:JNJ) Imbruvica (ibrutinib) ($8B), Bristol's Opdivo (nivolumab) ($7.6B); and Pfizer's Ibrance (palbociclib)($5.4B).
AstraZeneca's (AZN) Tagrisso (osimertinib) came in at #6 with $5B in sales. Roche (OTCQX:RHHBY) had four oncology treatments that rounded out the top 10 in revenue in 2021: Perjeta (pertuzumab), Tecentriq (atezolizumab), Avastin (bevacizumab), and Herceptin (trastuzumab).
More on cancer therapies
FDA draft guidance impacts companies using accelerated approval for oncology drugs
Cancer drugs launch prices soaring, straining Medicare, report finds
Zai Lab: Positioned For Growth In The Oncology Treatment Market
[ad_2]

Source link