[ad_1]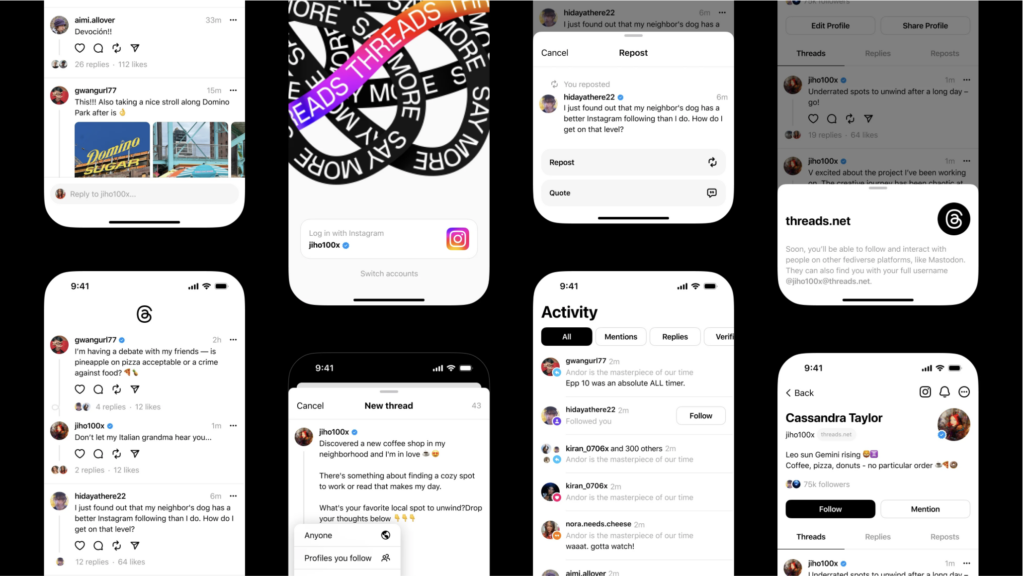 Soon after Meta Platforms Inc. META announced its Twitter rival called Instagram Threads, the internet was raving about two things — the Elon Musk versus Mark Zuckerberg fight and obviously, the new app. Most users started pre-registering using secret codes on Instagram as soon as it went live. 
Thursday morning Twitter trends reminded me that Threads is finally available to use for all, and it was the second thing I opened on my phone after Twitter. 
I have used it for a few hours, and I must say, it looks intuitive and fresh so far. The platform has introduced some new features that are stirring the interest of most users I know. Here are my first impressions.
See Also: Meta Threads Vs. Twitter: Will Zuckerberg's New App Make Elon Musk Sweat?
Onboarding and user registration
The pre-registration process on Threads was very neat as I searched for a secret code on Instagram to register myself, and the app downloaded on my phone as soon as it arrived on the App Store/Play Store. 
As expected, it supports seamless integration with your existing Meta accounts (Facebook and Instagram). You can register with just a few clicks, or, for new users, the process involves filling out a simple form that asks for a bio, a profile picture, any link you want to add to your profile, and whether you want to keep your profile public or private.
The platform also emphasizes privacy from the get-go, offering users various options to control the data they share. Here's the data used from your Instagram account in Threads:
Your Instagram login information.
Your Instagram account ID.
Your Instagram name and username.
Your Instagram profile information like your profile picture, bio, and links
Your Instagram followers.
Accounts you follow on Instagram.
Your age on Instagram.
Once you're registered, Instagram Threads gives you a guided tour of the platform, explaining its features, setting your interests, and suggesting influential profiles to follow. I really liked that you get a list of your Instagram followers to choose from and follow right at the beginning.
User interface
It is subjective whether you like the Threads interface or not. Coming from Twitter, you'd have some expectations – but so far, it is uncluttered with very Instagram-like aesthetics but nothing like Twitter. I doubt it'll remain neat for long, going by how Meta is known for flooding ads and unwanted content at users on other platforms.
As of now, there are no ads, the text looks sharp, and you get to see full-length vertical pictures, with a side-by-side photo layout. It is also handling multimedia pretty well as of now. 
Some features that I expected are still not here — like the option to edit threads, multiple text styles, professional tools, and intuitive cross-platform posting.
The design elements of the app are just like how we're used to seeing them on Instagram. The user interface is sleek and modern, featuring a minimalistic design that borrows some elements from both Instagram and Twitter but still manages to feel new. The platform prioritizes visual content, as seen in Instagram, while integrating features like trending topics, hashtags, and replies in a fashion reminiscent of Twitter.
The navigation is intuitive with the main functionalities easily accessible at the bottom of the screen, just like Instagram. Content is organized into different tabs: Home, Discover, New Thread, Notifications, and Profile, which feel dated, and I would want something fresh instead.
Overall, Meta has done a decent job of merging the aesthetics of Instagram with the quick conversation style of Twitter. Future updates to Threads will include better recommendations, a robust search function, and some more features to enhance user experience.
What's more?
Threads is a separate space for real-time updates and public conversations, catering to both creators and casual posters. It expands Instagram's reach beyond photos and videos, providing a positive and creative outlet for expressing ideas through text. Users can follow friends and creators with shared interests, including those from Instagram and beyond while leveraging existing safety and user controls. 
The feed showcases posts from followed accounts and introduces recommended content from new creators. Through the app, users can share posts to their Instagram stories or on other platforms. Posts on Threads can include up to 500 characters, links, photos, and videos up to 5 minutes in length.
Threads gives you control over mentions and replies to let users drive conversations. Furthermore, it aims to become compatible with the ActivityPub protocol, fostering interoperability with other apps and facilitating diverse and interconnected networks. With its global availability on iOS and Android, Threads presents an exciting opportunity for users to discover new threads and creators, with future updates promising enhanced recommendations and search functionalities.
Initial thoughts
Instagram Threads is just a day old and has already taken the internet by storm. While the app seems fairly bug-free as of now, it's safe to say it's still a work in progress since it's very limited and one could explore it completely within 15 minutes. I am expecting Meta to release a bunch of features soon, and if you like it or not, it will soon top it up with ads. 
So far, it looks like a promising start that leaves a lot to be desired, especially in terms of features. Otherwise, it's just an extension of Instagram that wants to take on Twitter when it's surrounded by criticism.
Check out more of Benzinga's Consumer Tech coverage by following this link.
Read Next: The World's First 24GB RAM Phone Is Here, Because Why Not?
[ad_2]

Source link