[ad_1]

The S&P 500 (SP500) on Friday slipped 0.29% for the week to close at 4,124.08 points, posting losses in three out of five sessions. Its accompanying SPDR S&P 500 Trust ETF (NYSEARCA:SPY) fell 0.25% for the week.
The benchmark index's weekly decline comes on the back of a 0.8% drop last week. One of the main highlights of this week was the release of inflation data in the form of the consumer price index (CPI) and producer price index (PPI) reports. The numbers pointed to overall moderation and led to market participants bolstering their bets that the Federal Reserve would cut interest rates this year.
On Wednesday, headline CPI for April came in at +0.4% which matched expectations while rising slightly from March. On a Y/Y basis, headline CPI moderated, which gave some support to the Fed pause scenario. On Thursday, headline PPI for April came in cooler than anticipated on both a M/M and Y/Y basis.
On the other hand, the University of Michigan's gauge of consumer sentiment for May dropped more than expected. Moreover, five-year implied inflation expectations rose to its highest reading in over a decade.
Aside from the data on inflation, an oft-ignored report by the Fed called the Senior Loan Officer Opinion Survey (SLOOS) published on Monday took on added significance this week. The survey tracks bank loans to businesses and households and market participants were looking to it to get an idea of credit conditions. Survey respondents reported tighter credit and weaker business loan demand in the first quarter for both commercial and industrial loans and commercial real estate loans.
Speaking of lenders, jitters around the stability of the regional banking space continued to simmer during the week, with PacWest Bancorp (PACW) in the spotlight. Shares of the bank plunged in extended trading on Thursday after it pledged more collateral to allow for additional borrowing under the Fed's discount window, a move that came after it disclosed that it lost 9.5% of its total deposits last week.
Amid the financial sector concerns and increasing evidence of cooling in the economy, markets appear to firmly believe that central bank rate cuts are coming, despite no indication of such from Fed policymakers and warnings from brokerages such as Wells Fargo. According to the CME FedWatch tool, the odds of no hike at the Fed's monetary policy committee meeting in June is at around 83%. The odds of a 25 basis point cut at the next meeting in July is now at about 32%.
This week also saw the first quarter earnings season start to wind down. Major names that reported their results this week included Disney (DIS), PayPal (PYPL), JD.com (JD) and Tyson Foods (TSN). Next week will see financial numbers from major retailers such as Walmart (WMT) and Target (TGT) which will give an idea of the state of the consumer.
Finally, market participants were also keeping a close eye on proceedings surrounding the debt ceiling debate. President Biden's meeting with congressional leaders has now been pushed to next week amid continued negotiations and little progress, even as the so-called X-date approaches as early as June 1.
Turning to the weekly performance of the S&P 500 (SP500) sectors, nine ended in the red, with Energy extending its decline to a second straight week. Financials came in third among the losers. Communication Services and Consumer Discretionary were the two gainers, with the former rising more than 4%.See below a breakdown of the weekly performance of the sectors as well as their accompanying SPDR Select Sector ETFs from May 5 close to May 12 close:
#1: Communication Services +4.34%, and the Communication Services Select Sector SPDR Fund (XLC) +2.37%.
#2: Consumer Discretionary +0.61%, and the Consumer Discretionary Select Sector SPDR ETF (XLY) +0.43%.
#3: Consumer Staples -0.01%, and the Consumer Staples Select Sector SPDR ETF (XLP) -0.08%.
#4: Utilities -0.30%, and the Utilities Select Sector SPDR ETF (XLU) flat.
#5: Information Technology -0.33%, and the Technology Select Sector SPDR ETF (XLK) -0.19%.
#6: Real Estate -0.98%, and the Real Estate Select Sector SPDR ETF (XLRE) -0.93%.
#7: Industrials -1.15%, and the Industrial Select Sector SPDR ETF (XLI) -1.04%.
#8: Health Care -1.16%, and the Health Care Select Sector SPDR ETF (XLV) -1.05%.
#9: Financials -1.35%, and the Financial Select Sector SPDR ETF (XLF) -1.33%.
#10: Materials -1.99%, and the Materials Select Sector SPDR ETF (XLB) -1.96%.
#11: Energy -2.16%, and the Energy Select Sector SPDR ETF (XLE) -2.13%.
Below is a chart of the 11 sectors' YTD performance and how they fared against the S&P 500. For investors looking into the future of what's happening, take a look at the Seeking Alpha Catalyst Watch to see next week's breakdown of actionable events that stand out.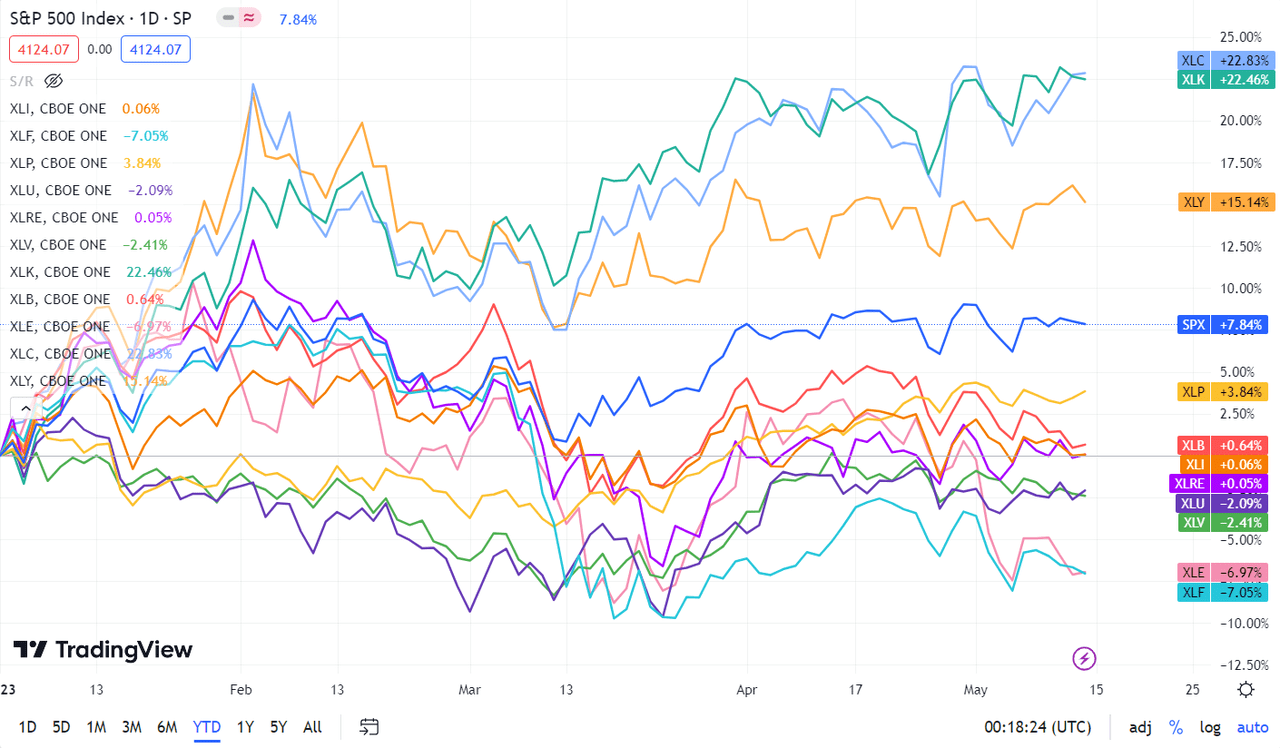 More on the markets
[ad_2]

Source link