[ad_1]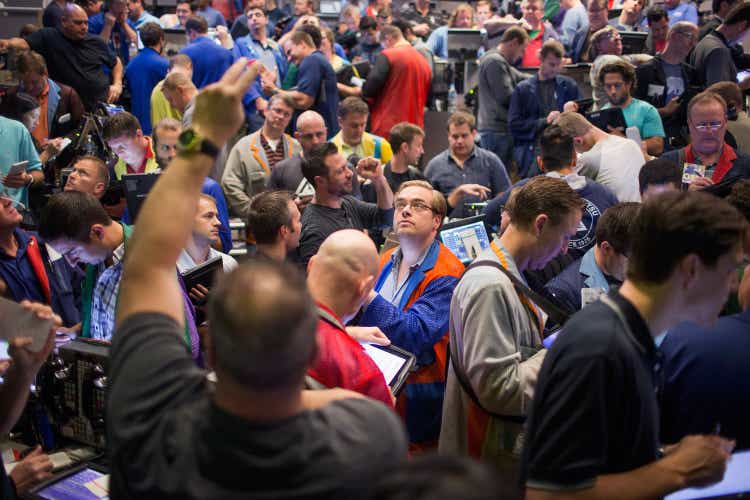 Stock index futures pointed to a higher open Wednesday but trading will likely be muted until the Federal Reserve rate decision this afternoon.
S&P futures (SPX) +0.2%, Dow futures (INDU) +0.1% and Nasdaq 100 futures (NDX:IND) +0.2% were up.
The market expects the Fed to raise rates by 25 basis points, which could be the last hike of this tightening cycle.
"Strains in the banking sector continue to cause headaches at the Fed, while the Treasury worries about the debt limit," SocGen's Kit Juckes wrote. "A 25bp hike and a heavy hint (at least) that we will then see a pause, is the consensus view of today's Fed meeting. Surprises could include an emphasis on the possibility they will do more (but would the market believe them) or a decision to stay on hold. Either way, the economy is clearly losing momentum now."
"Tactically, a dovish hike may be taken as an all clear to buying risk and a hawkish hike could jolt market pricing of no hikes beyond June," Steve Englander, strategist at Standard Chartered said. "We don't see why the Fed would want either outcome and communicating something in the middle will be a challenge. By contrast waiting until June will provide more clarity on banks and the debt ceiling as well as provide two more NFP and CPI reads – that seems prudent given the uncertainty in markets."
"Strategically if the Fed doesn't want markets to price in cuts, it should send a message that a pause could be followed by hikes as well as cuts if that is what the data say – as it stands the market only sees one way risk once there is a pause."
If the last couple of meetings are any guide, stocks are in for whiplash trading starting with the FOMC statement at 2 p.m. ET and lasting through Fed Chairman Jay Powell's press conference.
"Inflation has been extremely unusual," UBS chief economist Paul Donovan said. "The first wave of transitory, demand-led inflation is now in deflation. The second wave of energy, supply-led inflation is now in disinflation (oil prices fell further yesterday). The third wave of profit-led inflation continues at the end of supply chains."
"Former Fed Chairs Greenspan, Bernanke, or Yellen would have offered innovative solutions. Powell seems to lack the confidence to go beyond a conventional, economics 101 response."
Rates are lower, except on the debt-ceiling-driver short end of the Treasury curve. The 1-month (US1M) yield was up 14 basis points to 4.53%. The 3-month (US3M) was up 17 basis points to 5.22%.
The 10-year yield (US10Y) fell 4 basis points to 3.40% and the 2-year yield (US2Y) fell 3 basis points to 3.95%.
"Whilst yields moved lower across most of the curve (on Tuesday), there were some seismic movements at the very front-end, with yields on near-term T-bills spiking after Treasury Secretary Yellen warned that the government could hit the debt ceiling as early as June 1," Deutsche Bank's Jim Reid wrote. "For instance, one bill that matures on June 8 spiked up by +85bps at one point before finishing up +45bps on the day, ending the day at 5.230%. For now at least, there hasn't been much signs of progress on the political side either, which is further concerning investors."
"The debt ceiling farce continues," Donovan said. "In the near term, the main cost of this is that it consumes the scarcest commodity in Washington – time."
The Fed will get a final batch of economic data before decision time. Before the bell ADP's measure of April private payrolls comes out. Economists predict a gain of 148K jobs, similar to March, although the Fed will likely be more focused on Tuesday's dovish JOLTS (see chart at bottom).
After the start of trading, the April ISM services index hits. The forecast is for a small rise to 51.8.
The April S&P Global composite PMI is also on the docket, with economists looking for a rise to 53.5. The services PMI has a consensus for a rise to 53.7.
Stock market latest
[ad_2]

Source link