[ad_1]

Automated Forex Trading Tools
AutoControl EA bot is the brand new modern trading tool that pioneered the revolution in automated trading
DOWLOAD  SIGNALS GUIDELINES FOR USING STRATEGIES
AutoControl EA settings on MT5, how to set up notifications and control bots with Telegram
On AutoControl EA enable: Allow modification of Signals settings. Allow Algo trading
On MT5 click Algotrading to allow MT5 to trade automatically
1. Using the Target function
Allow to take profit stop or stop loss separately
Option to wait to finalize the total profit according to the target
Option to wait for profit taking, stop loss according to total profit status
Delete pending buy and sell orders
2. TimeStop setting
Stop trading by day
Stop trading by day of the week
Stop trading by interval
Stop trading on news
Note that this table is a setting table: If you want to activate it, click the button: Use Time stop in the AutoTrade tab
3. EntryManual function
Manually enter orders by selecting order palanquins
Change parameters directly on the control panel
Drag and drop the entry point, takeprofit point, stoploss point right on the chart: click once on the point to move => move the point to a new position => click once again to place the point => On the dashboard Measure and display point parameters, and execute commands on the control panel
Use when additional intervention is needed to increase profits, reduce risks when necessary. And it is perfectly suitable for professional traders
4. Semi-automatic mode
When determining the direction of the transaction is Uptrend, use the semi-automatic Buy button, and vice versa
Suitable for experienced traders to judge market trends
Purpose: Increase trading performance, increase profits, in some cases can reduce risks when necessary
Using:
Lot type: Choose from a variety of martingale or fixed styles, the options below are more complex and high risk lot calculations.
Fixed setting Takeprofit, Stoploss in units of points. Install AddTakprofit step, AddStoploss added to each order step
Has its own profit-taking and stopping-loss goals. Allow to use private trailing
LimitChain, LimitTimeStop:0 ie not activated
Purpose to exit semi-automatic mode
5. AutoTrade mode
GUIDE TO STRATEGIES
Allow transactions to be fully automated, pre-enabled, can be turned on and off if desired
UseTimestop: when activated, the settings in the Timestop tab will apply
SetSLTP: When allowed, the parameters of Takeprofit, Stoploss, AddTakeprofit, AddStoploss will be applied according to points.
Note: some strategies will not use parameters Takeprofit, Stoploss, AddTakeprofit, AddStoploss by point instead will use algorithm to take profit and stop loss.
Strategic options: Integrating 20 strategies, each strategy is like a separate EA bot with different algorithms to calculate entry, take profit, and stop loss.
Strategies can be combined to optimize automated trading:
How to combine strategies:
TrendGap, InverseGap, SmartGap are 1 group
When the market may be about to have a BreakOut, the market will go in a strong direction, choose TrendGap
When the market weakens, or the market starts to struggle, the market sideways in a price zone, choose InverseGap
When you don't know what the market will be like, or the market is volatile, choose SmartGap
Group OneWayBuy and OneWaySell , BalanceCalcullot is 1 group:
If the market shows signs of changing Up Trend, or UpTrend, choose OneWayBuy
Similar to OneWayBuy, OneWaySell will be the opposite
When the Sideway market struggles and weakens in the price range, choose BalanceCalcullot
LimitGap: Ordering step distance
RecoveryLevels: Lot Gain Level
LimitOrder: Limit order quantity
Risk level: The percentage of Drawdow level, if it drops beyond the allowed level, will stop entering the order and wait for the entire order to be closed
AddTakprofit: Increase Takeprofit when adding orders.
For example: Takeprofit = 1000, Add Takeprofit = 100.
Buy 1= 1000
Buy 2= 1000 + 100
Buy 3= 1000 + 200
Buy 4= 1000 + 300
Stoploss is similar
Takeprofit set way= useManual: i.e. use the Takeprofit settings on the dashboard
The rest if different will use automatically
Stoploss set way is similar
In the Input section when Backtest has the ModeLoadSet section: ExpertSetup will load the default parameters you preset in the AutoTrade section
ModeLoadSet : YourSettings it will apply the parameters you change in the AutoTrade section
6. Indimaster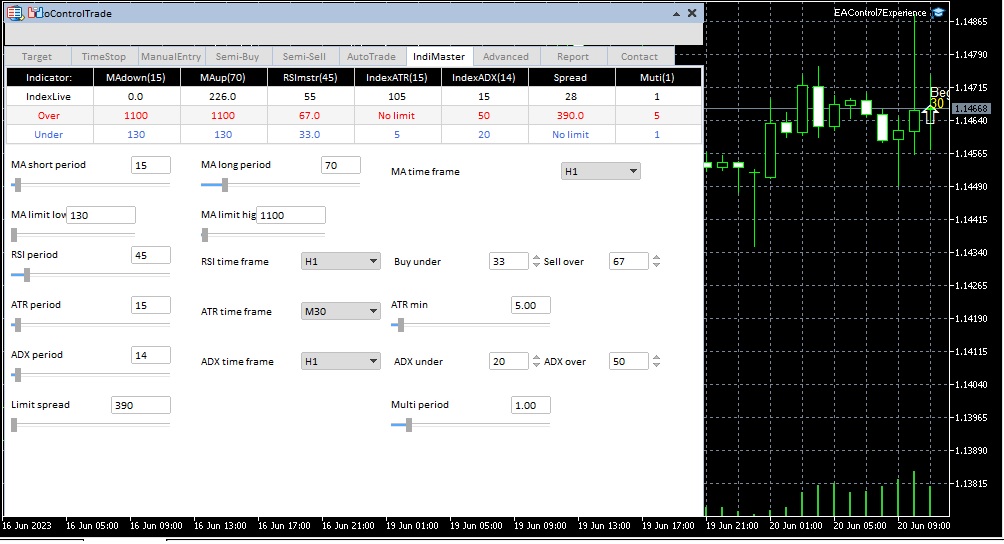 Synthesize single indicator to create master indicator
Some automated strategies will use the main indicator to determine entry points, others will not
All indicator parameters have been optimized you do not need to change, if you want to experience you can change it directly
Indicator measurements are displayed on the dashboard, some are plotted on a chart visually
Suitable for people who understand technical analysis, can be combined for manual trading
7. Advanced
Allows to turn on or off the indicator drawing on the chart
Allows to turn on or off the display of information on the chart
Allows you to choose how to notify Telegram
Allows to control AutoControl EA bot from Telegram
Purpose: Simplify the tracking and control of transactions. More functions and utilities will continue to be added in the future
8. Reports
Export report of instant transaction statistics
Based on the results of the report to analyze the effectiveness of the applied strategy, thereby making appropriate and effective treatment plans.
9. How to configure AutoControl communication with Telegram
Configuration on MT5:
Tools=>Options=>Expert advisors=>Tick Allow Webrequest for list URL:
Add:

 

https://api.telegram.org
=> Click Ok
How to create Telegram bot on Telegram app
Find @BotFather => /NewBot => Give the bot a name (Write consecutive words using latin letters ending with "bot")
=>If the bot name has been accepted, please re-enter the bot name to confirm again and will receive the bot's Token
You can add Telegram bots to groups and channels created by you, the same way you add friends. Note please allow Telegram bot as group admin
How to get the ID of a Telegram channel: Please forward a message from your channel created to @userinfobot => You will receive your channel's ID. For Telegram groups, it is not necessary
Settings in the Input section of AutoControl EA: Enter the Token of your Telegram bot. Enter other parameters if any. On the Advanced section interface, click the Allow send to Telegram button to be activated
Note: Function only works with Window 7 and above
How to control bots from Telegram: Find your Telegram bot name: Activate the bot by pressing Start=> Enter "hi" to call AutoControl EA => Follow the instructions to control AutoControl EA
Thanks for reading the user manual
[ad_2]

Source link